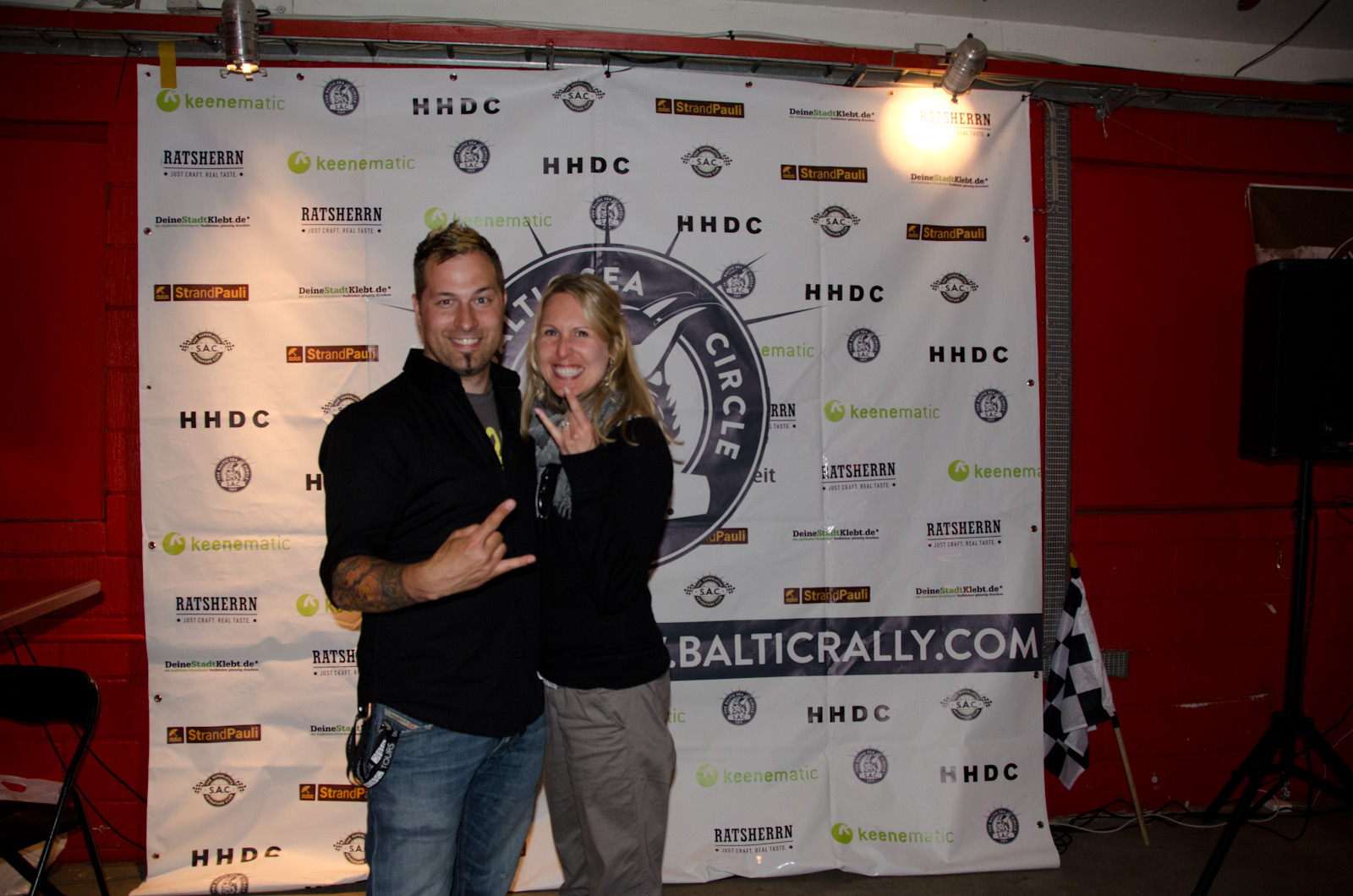 The final stage of the rally today and we made great time from Stockholm to Copenhagen. After great weather in Stockholm we woke to a gray and rainy morning, but we soon left it behind as we chased better weather to the southwest. For the first time really on the rally we could properly say "hot" was the best description. An abusive toll allowed us to cross a pretty spectacular bridge and tunnel from Sweden into Denmark and we were quickly into the center of the city and cleaning up in another awesome Airbnb apartment.
We were among the last, if not *the* last, teams to arrive at the finish line party just a few minutes before 18h (what we'll have to become re-accustomed to calling 6pm when we return home). Indeed, a few teams had already left to begin the long drive home to southern Germany as they had to be back at work on Monday. A fantastic spread of food was laid out for us to feast upon, and everybody set about congratulating each other on finishing. I tried purchasing a few drinks at the bar, but refused to sign a credit card receipt for Kr1510 (over $250)… oops, bar mistake, but they couldn't seem to reverse the charge! Yikes. They assured me they would correct it before the billing reconciliation over night… we'll see. The finish line ceremony awarded us a glossy certificate and basking in the glory of being last place among cars in the RoadBook competition, earning 8 out of a possible 25 points! Well earned if we do say so ourselves, given we skipped Russia, and put in a pretty creative interpretation of some of the tasks. The only team to earn less than us was a motorcycle team, but several teams didn't do the RoadBook at all, so I think we accurately placed about middle of the pack.
About midnight, and in actual post-sunset darkness for the first time in a couple weeks, most of the remaining teams filtered off to bed, and we drove back to our apartment to park the car, but went out to meet up with another team and the promotions girls at a Scottish pub. Copenhagen never seems to sleep, people of all ages were still riding bicycles around town until all hours, and even parents out walking babies in strollers at 2 in the morning. Leaving quite early we were back at the apartment to sleep by 3 (most bars close at 5).
The rally is officially over and we have just a few days left before the trip is as well. Vi ses snart i Seattle!
Finish line photos: