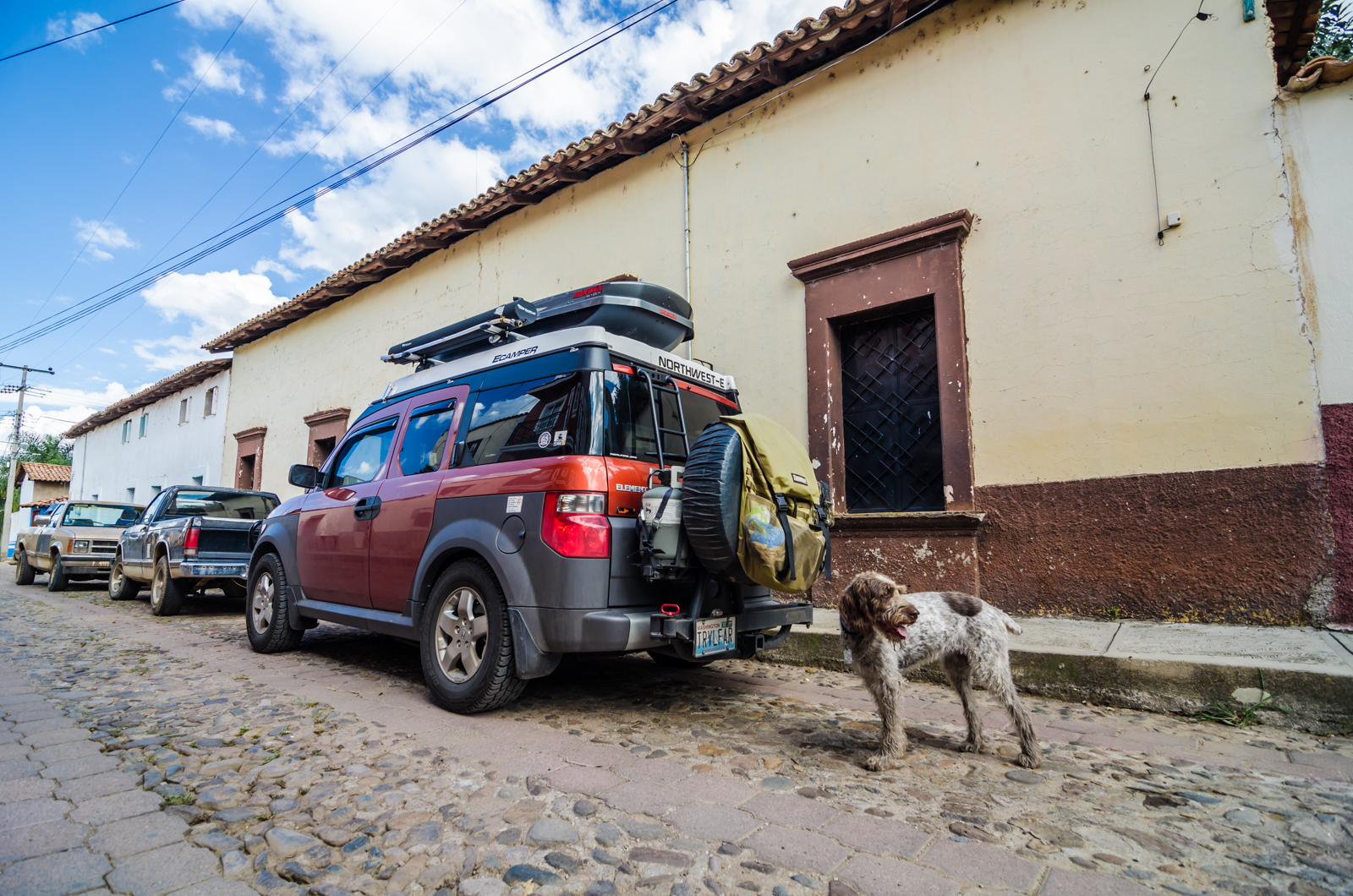 Having survived Hurricane Patricia, or, at least all the fuss surrounding her, we caravanned back to Puerto Vallarta with Ernesto and Taisa, taking a slightly different route via San Blas where we stopped for lunch, and stopping in Sayulita once again on the way for well deserved margaritas after a long day of driving. As long as the drive was, it was made much more enjoyable with the addition of our caravan partners and their two way Garmin Rino radios. Hours passed, but so did jokes and conversation despite driving two separate vehicles, and my spirits were lifted by that camaraderie and a nostalgic reminder of the antics we had with our multi-car team on the Mongol Rally. By the time we arrived at our still standing apartment in Puerto Vallarta, rather than feeling tired by the long drive we were laughing and ready for dinner. Kim and I spent a couple more days relaxing in PV, but were able to catch up once more with Ernesto and Taisa in Guadalajara to check out a Lucha Libre Mexican wrestling event and camp with them on the shore of Laguna de Chapala before truly parting ways for the foreseeable future as they raced off for the Yucatan peninsula.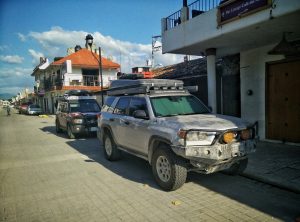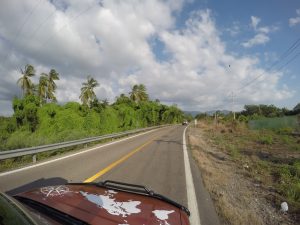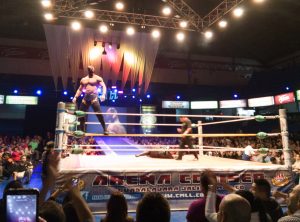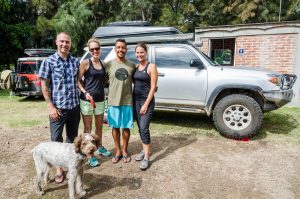 "before I continue, let me introduce you to a very dirty word… this word is Tope"
Kim and I ventured north for Aguascalientes, which had somehow made its way into my brain as a good destination for Dia de los Muertos… Day of the Dead. Originally we had wanted to arrive in Oaxaca before Halloween to experience the holiday there, but delays departing from Seattle, making our way slowly down the coast, and the time spent backtracking due to the hurricane, all made that destination a bit too ambitious. I'm sure I must have read an article somewhere on other good places to experience Dia de los Muertos and we developed an image of face painted revelers walking charming colonial streets in our minds. When we arrived in Aguascalientes however, we were met with a large, somewhat charmless industrial town, that while it did have a small colonial center, the celebration of Dia de los Muertos seemed to be rather limited, or isolated into a carnival area of sorts where we were not welcome with Sophie. We tried to temper our unmet expectations with an exploration of a local winery, which while beautifully scenic, also left something to be desired in the quality of the wine. Again with the disappointment of unmet high expectations. Why do we keep putting ourselves into this position? It's not just the feeling of being let down, but also the disappointment in myself for having perhaps stereotypical notions about a place, and not allowing myself the flexibility to experience something just as it is, to enjoy it inherently. I sometimes feel like a novice traveler who still has a lot to learn. I can haz humility?
In any case, we decided not to let it get to us, and use the flexibility of having time on our side to venture elsewhere. On the advice of Toby and Chloe, we decided to give Pátzcuaro a chance, a supposed originating location for Dia de los Muertos. Despite being situated in the state of Michoacán, we had been given some reassurance from them that it was a safe place to visit. The drive through Michoacán was a nice change of scenery from Aguascalientes, and when we arrived at beautiful lake side Pátzcuaro we were so glad we decided to move. Suddenly we were in the midst of a town square filled with craft vendors, amazing food, skull painted faces, enormous puppets, and dancing angels of death… the image I had in my mind of the holiday brought to life! Ok, so sometimes expectations are meant to be met. Not only was our Dia de los Muertos experience memorable, but we stayed at what was easily the best campground of the trip so far. The "RV Park" was a lush garden like setting with a pool and lots of open space to camp. After having so many challenging camping situations in Baja, resorting to hotels more than we had planned, and generally feeling like failures at this whole overlanding thing, we had a really enjoyable and successful camping experience to bolster our confidence that we could continue "living" out of the car.
After thoroughly enjoying Pátzcuaro we packed up Ellie, brewed ourselves some delicious coffee, and drove east towards Mexico City and the ruins of Teotihuacan just beyond. Winding our way through the beautiful colonial city of Morelia we became mired in traffic, missed a turn on our route, and became slightly lost. Now before I continue, let me introduce you to a very dirty word… a four letter word, that in Spanish is not a curse word, but on our little adventure definitely became cursed. In Mexico anyway, this word is Tope. Further along our route this word would become Túmulos or some other phrase, that translated into English sounds like a harmless "speed bump", but now and forever we will curse them as "Tope". In Baja, the topes were not so bad. Speed bumps that slow you down a bit, or just make a rumble as you pass over them. As we left Mazatlan though, the topes became larger… and not just that, more frequent as well. By the time we reached Teotihuacan we'd be forced to pass over two topes at every intersection and several more in between where every sort of vendor would set up and try to sell you their goods. But I'm getting ahead of myself…
"the slightest provocation would make a sound like Transformers fighting"
By the time we reached Morelia, the size of most topes had grown to the point where we'd be forced to come to a complete stop and creep over them to prevent bottoming out. As we wound our way through the city, and drove off our intended route, I was looking for a way to get back on track, and I must admit I didn't see the monster tope that loomed before me on the road. As the front wheels rolled over the steep mound of concrete, I realized a dreaded tope was attacking us, and I was going much too fast. Hit the brakes! The car slowed, to probably a survivable speed, but after the front passed over the tope, and the sufficiently strong front suspension absorbed the shock of coming down, we felt the car descend into a pot hole on the other side of the tope that had been obscured by the mountainous height. Unable to completely stop the car, the back end completed rolling over the tope, and precipitously dropped the driver's side rear tire into the crater on the other side. Despite my attempt to ameliorate our stock suspension by adding heavier springs and fresh struts at home before leaving, all of the added weight that necessitated such mitigation came crashing down over that wheel. Auxiliary batteries. Jerry cans of water. Refrigerator. Roof box full of tools and spares. The sound of metal snapping, gnashing, crunching… We stopped. Everybody ok? Sophie was a bit freaked out from the noise, but all the damaged appeared to be outside. I examined the carnage, but other than appearing to sag in that corner, I couldn't see anything obviously broken… phew, maybe we survived. But as I pulled away from the scene of the crime, the car made a crunching sound whenever the back end moved up and down. If I went slowly enough, no noise, but the slightest provocation would make a sound like Transformers fighting.
We limped back into the center of Morelia and found a suspension shop. Amortiguadores was a difficult to pronounce word, but I soon became expert at saying it. The shop we arrived at had the part in stock, and would be happy to sell it to us… after lunch… in a few hours… however they couldn't do any installation. For that we crawled across the street to a mechanic, Marco, who without hesitation stopped the other project he was working on to help us out. We jacked the car up, removed the wheel and set about seeing just exactly what I had done. He pulled out the suspension assembly and thankfully saw that the spring had not been broken, the hydraulic strut itself was probably unbroken as well, but the mount which holds the spring around the strut had been badly bent, allowing the spring to expand completely, and putting the entire weight of the car onto the strut which had become fully compressed. It's a miracle it actually held together long enough for us to drive to the shop. Marco went about ordering a replacement assembly from another source so we wouldn't have to wait 2 hours for the parts shop across the street to return from lunch while his assistants Adrian & Enrique disassembled our suspension to prepare the spring for the new strut assembly. Kim did what she could to be helpful, and brought back cold sodas for everybody from a tienda across the street. As we were waiting for the new part to arrive, the customer whose truck Marco had stopped working on to help us arrived and took an interest in our situation. Far from being in any way concerned about the work on his car proceeding, Captain Ilario & his wife Guadalupe wanted nothing more than to talk to us. They were very interested in the car, in our journey, in Sophie. They had visited the US before to visit family, but they spoke almost no English so I did my best to converse with them in Spanish. Captain Ilario is a helicopter pilot, from what we could gather for the Mexican DEA, and proudly showed us photos on his phone of some major confiscations they had executed. Large piles of cocaine wrapped into cellophane bricks and stacked upon each other. It was like the movies! Eventually our part arrived, and everything started going back together, but as it was becoming rather late in the day, and having promised ourselves not to drive needlessly at night (obscured topes!), we decided to head back to our favorite campground in nearby Pátzcuaro for one more night.
On the good advice of Captain Ilario, we did not drive directly back to Morelia the following day, but took a detour around Lago Pátzcuaro. Not only were we met with beautiful views of the lake, we were able to visit Tarascan ruins nearby, which we had entirely to ourselves and were allowed to bring Sophie into as well. She ran happily around the large grassy plain surrounding these impressive pyramids while we quietly explored the archeological site unhindered by any other tourists. This was in stark contrast to the heavily visited site of Teotihuacan where we did finally arrive at the end of a long day's drive and a more successful navigation through Morelia. Had we not broken down in Morelia the first time, we never would have found ourselves near the shore of Lago Pátzcuaro exploring these fantastic ruins.
Once again, we find ourselves arriving at a destination not as we had intended, but discovering the gems of Pátzcuaro that we never expected from the outset. Some might call it fate, others good fortune. Either way, we're reminded to let go some of our assumptions and be open to unexpected adventure.