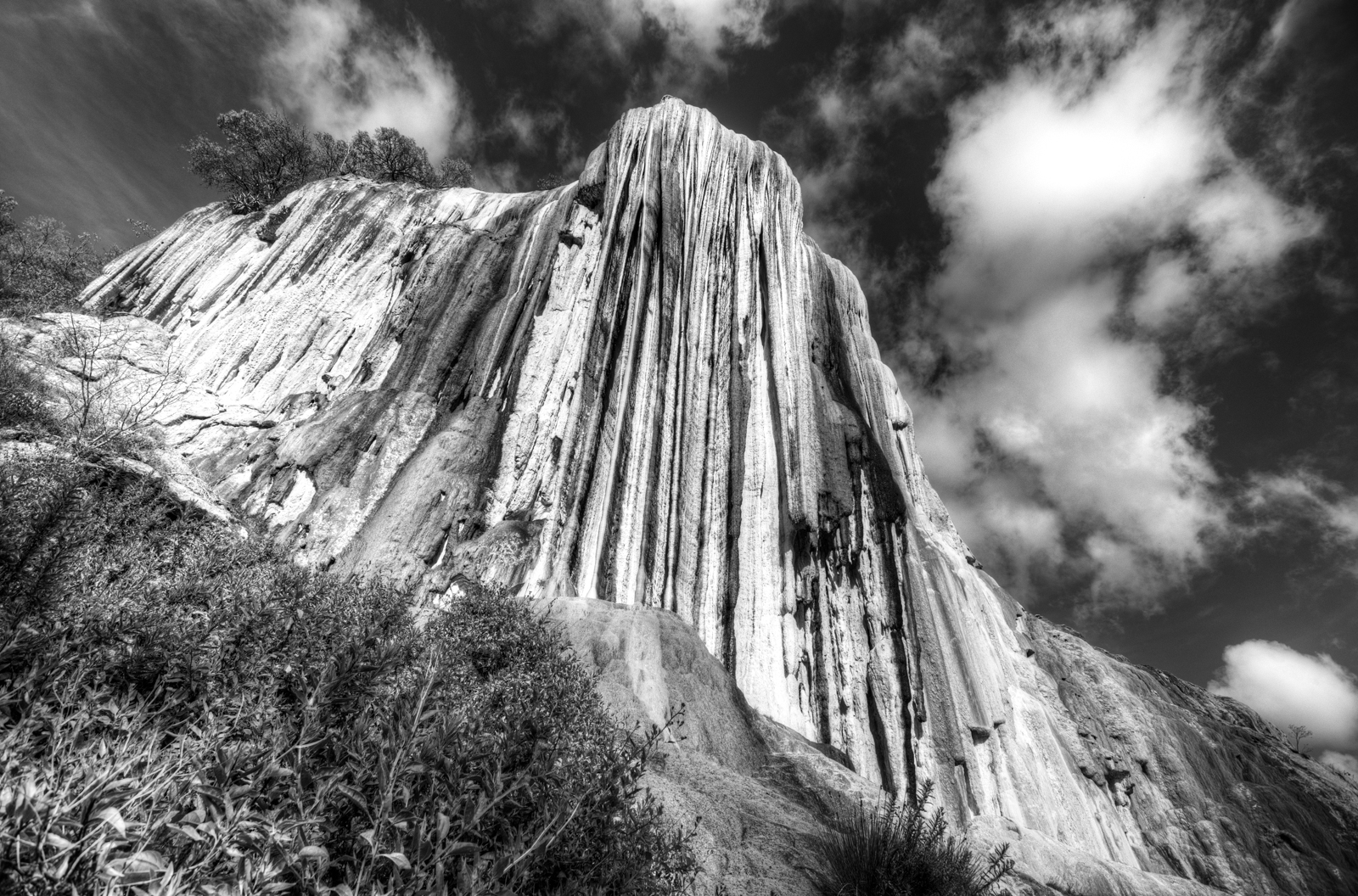 Hierve el Agua to Xela – Petrified waterfalls, New Friends and a New Country
22 Nov 2015, by Locale, People
in
It was a little hard to leave the charm of Oaxaca, but the excitement of seeing one of the world's two "petrified" waterfalls (the other is in Turkey) encouraged us to get back on the road. Driving amongst the beautiful countryside and agave farms, we were now in mezcal country.  We stopped at one of the many producers along the highway where we were offered fifteen or so mezcal samples (um, I lost count) complete with fried grasshoppers to snack on and a full carne asada lunch to help us get back on the road to Hierve el Agua sober.
"the waterfalls at Hierve el Agua are of high mineral content which over thousands of years collected into rock formations similar to that of cave stalactites and stalagmites"
We arrived in the early afternoon which afforded us time to hike down the side of the mountain to get a view of the waterfall from below. The waterfalls are of high mineral content, namely calcium carbonate, which over thousands of years collected into rock formations similar to that of cave stalactites and stalagmites. Water still pools and trickles down continuing the process. The community is attempting to build a sort of rustic spa here as next to the falls are some tepid "hot" springs located on one of the waterfall cliffs.  The view of the surrounding mountains is absolutely spectacular.
Settling in to camp in the grassy field above the waterfall after our hike we noticed another van parked in the field with gear strapped to the outside – definitely a fellow overlander. Hailing from Germany, Paula and Constantin are also driving the Pan American South all the way to Argentina.  We broke out the tequila (which admittedly we prefer to mezcal) and sat under the stars together, clinking glasses and exchanging travel stories.  It was a great night with new friends with whom we would come to share more adventures.
The following day's long day drive to San Cristobal de Las Casas was punctuated by getting lost trying to find our accommodations, a small urban farm somewhere on the outskirts of town.  Darkness fell but we were eventually guided in by our quiet and kind host, Jaime, and crashed into bed.  The next morning we were nudged awake by the gentle sounds of goats, ducks and chickens – Jaime's little farm waking up.  I made coffee and sat out on the porch of our one-room cabin enjoying the sounds of this early morning scene, including watching the elderly indigenous man who lived on the farm shuffle a few goats around the property.  I quietly laughed as he shook a stick and hissed at Sophie when she got too close to his goats.   
San Cristobal de Las Casas has a beautiful old town comprised of lovely plazas, churches and beautiful colonial buildings.  We walked through the squares showcasing local foods and handicrafts – mostly factory-made but a pretty sight nonetheless.  But sadly the crowds were overwhelming making a relaxing stroll impossible. The churches were closed to visitors and most of the shops and cafes, albeit set inside charming colonial buildings, were Mexican Forever 21s, Radio Shacks, and burger joints blasting electronic music.  So it was back to Jaime's place for some peace and quiet. Upon much recommendation we took a fascinating day trip to San Juan Chamula, but I'll let Brian paint that picture in another post.  
We were soon on the road again making haste for the Guatemalan border, but our priority turned to finding a vet for Sophie.  While at Hierve el Agua she had gotten into something and had been sick on and off not eating well. In most of these countries veterinarians run pet stores in the front with the exam room in the back.  The only one we could find in nearby Comitán, a mostly farm-oriented town, was sadly dingy and with puppies barking in small dirty cages.  Brian explained in Spanish over puppy yelps Sophie's symptoms.  The vet briefly examined her, gruffly announced the diagnosis of "parásito," and shoved a pink tablet down her throat.  He handed me another tablet and said it was for tomorrow.  Done.  That's it.  Great!  Um, what is this?  With our fingers crossed and eyes downward trying not to look at the sad surroundings we were out the door.  
Border towns are always dingy chaotic madhouses and the one we crossed into Guatemala was no exception.  "Helpers" abound, food stalls, clothing stalls, music blaring, horns honking, hoards of people and animals crowding the road walking across the "border" without anyone caring.  A random dude in plain clothes and a fanny pack insisting we pay him a necessary fee of some kind.  Since there were no clear signs, we learned that we couldn't export the car from Mexico at the border.  That office was five kilometers back.  Okay, back we go.  Export done.  Drive back, car fumigation, immigrations, customs, car import, dog import. Nearly three hours later we were all through, legally.  And that guy with the fanny pack wanting money?  He was totally legit, collecting the car fumigation fee.  
The chaos of the border melted away as a beautiful winding road through tropical mountains opened up before us.  We were already enjoying our introduction to Guatemala – the friendly faces, colorfully decorated busses, and scenery reminded us both instantly of Nepal.  We were just fifteen minutes from our planned hotel for the night when all traffic on the tiny two-lane mountain highway came to a grinding halt.  Waiting and waiting; no movement for an hour.  Brian took a walk to see what had happened and apparently a giant sinkhole had opened up in the oncoming lane about 200 meters ahead of us.  The police were late to the scene and were trying to untangle this massive rat's nest of a traffic jam.  No longer were there direction-specific lanes.  Just a parking lot of semi trucks and cars honking and spewing diesel fumes.  We finally squeezed through being waved on by the police and rolled into the hotel we had been aiming for just as darkness fell.  Undaunted by the fact that they were full we asked if we could park and camp in their gated parking lot which they cheerfully allowed.
We made it to Xela in just a few hours the next day settling into a lovely guesthouse owned by a very kind Brit.  Unfortunately, since the day before, I was feeling ill.  And despite my excited anticipation seeing this beautiful and historically important city, within an hour of our arrival I was a mess and completely bedridden.  Brian soon followed suit and we were confined to our room the entire time in Xela.  Luckily Sophie was feeling better and our host was happy to have her play in the enclosed courtyard with her beautiful white German Shepard.  When our last morning in Xela rolled around all three of us finally felt like we could eat.  After Sophie scarfed down some chicken and rice, we made our way to the public market, pulled up plastic stools next to a taco cart and ordered several each (including one for Sophie) complete with sodas – the most delicious breakfast of the trip thus far for us all.  Thank goodness we were on the mend. Thanksgiving was just a few days away and we had family meeting us in Antigua.  Time to hit the road.