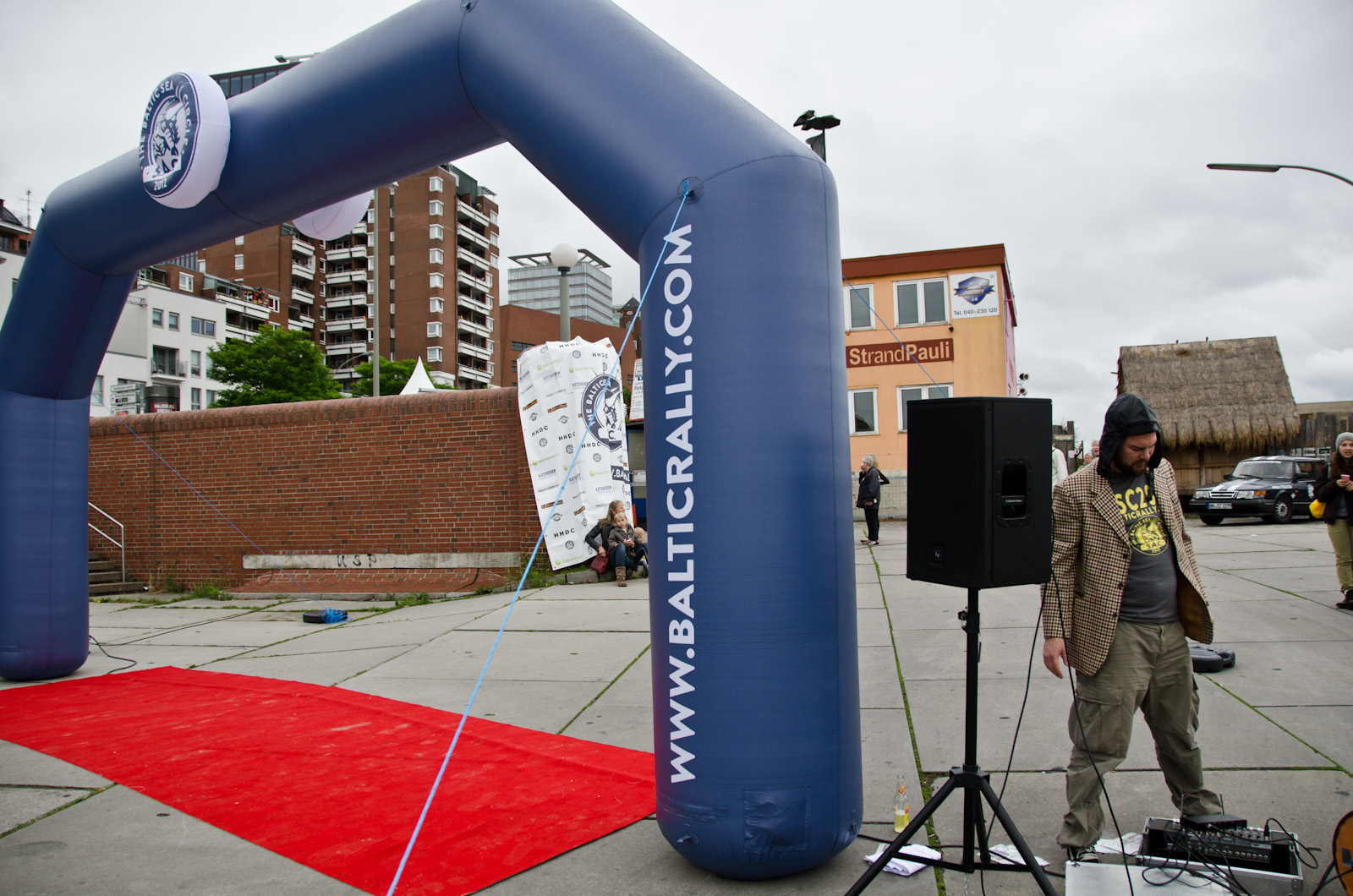 I have spent most of my time online keeping the maps and photos updated, so the daily posts have been brief. There have been tons of thoughts running through my head that I've wanted to get written down, but by the end of the day we're usually too exhausted from driving or walking to keep a good record. Here's a summary of the rally so far.
Day 1: Germany

Hectic morning picking Kim up from the airport and getting to the starting line. We finished prepping the car and were on our way to Berlin before we could blink. About an hour outside of Hamburg we pull over and take a nap, Kim still jet lagged, me just tired from driving 1,000 miles the previous 3 days. Our nap was rewarded by a boost in energy enough to meet a former co-worker and his girlfriend in Berlin for a
great night out in the Kreuzberg area. Drinks, dinner… we were in bed after midnight!  A quick morning exploring the East Side Gallery and we were ready to hit the road.
Day 2: Poland
After our night out, we didn't exactly get an early start, and a long day of driving put us into Warsaw pretty late. The long drive was put to good use reading and getting half way through The Art of Racing in the Rain. Amazing book! We fell in love with Enzo on our way to Warsaw. Checking in after 9pm, we found our way to a hilarious restaurant, Jeff's, near our hotel. It was what the Polish imagine "American" restaurants to be like, so you can imagine the caricature this place was. What definitely wasn't American were the chain smoking patrons at every table… it's Europe, get used to it! We were up early the next morning with very few stops on our way out of town to take photos, and on our way to Riga.
Day 3: Lithuania & Latvia
Construction plagued us on the way out of Warsaw. It felt like the whole country was under construction, at least wherever it wasn't actively under destruction. An hour was lost due to the time zone change in Lithuania, and another eating dinner by ourselves in an odd wedding reception hall in the middle of nowhere on the outskirts of Kaunas, Lithuania. The broken CD player skipped and repeated Adele the entire meal (which itself was actually pretty good)… if I never hear her again it will be too soon. It's after 1am when we find our hotel in Riga. We see another rally team bar hopping as we pull into town.
Day 4: Latvia & Estonia

The morning is spent meandering around super charming Riga. Whereas Poland and Lithuania felt very Russian and eastern, Riga had all the character of old European streets you'd expect to find in Paris or Rome. If you ever get a chance, put Riga on your list of places to visit.
It's like the best of old and new are mashed together, all the class of historic Europe without sacrificing any amenities. Our hotel was also a steal. Looked like a place James Bond would stay in, but we didn't pay MI-6 prices. Our drive to Tallinn took us along the Baltic coast for the first time as we cruised along the Gulf of Riga. Appropriately it rained on us as we finished up The Art of Racing in the Rain… and if you know anything about the story, you won't be surprised to read there may have been a little rain falling inside our car as well. The drive is short. We arrive in Tallinn a little emotionally if not physically spent, and make our way to the first rally party at Glehni Castle. We compare notes with other teams and make some new friends!
Day 5: Tallinn
Most of the other teams head towards St. Petersburg today, but we took advantage of *fantastic* weather and just enjoyed the city. We tossed the guidebook and got lost inside the old walled city. My advice about Riga goes tenfold for Tallinn. Estonia was never on my radar before, but Tallinn was amazing and memorable. It was a little like stepping back in time to a medieval village.  Sometimes cheesy (wait staff in period clothing), but mostly just charming.  A glass blower turned around his "no photos" sign and implored me to shoot… he motioned that it was the stubborn shop manager who didn't want the photos, but he was happy to be captured. We packed a lot into the day, walked *all* over the city, explored the old wall, and had a great dinner at an Italian restaurant called Rapid Rabbit. Octopus & potato appetizer. Bacon wrapped pork tenderloin for me, grilled fish for Kim… excellent.
Day 6: Ferry to Finland
Our hotel right near the Old City was also conveniently near the ferry terminal, and by 10:30 we were on our way to Finland! Off the boat and parked near the main Market Square by 1pm, we courageously tried Moose, Bear, Reindeer and Wild Boar sausages with lingonberry jam and garlic sauce for lunch. A little heavy but tasty! We tried something else new to us in Helsinki: staying at a stranger's apartment via AirBnB. Our hosts were heading up to their cabin in the woods for Midsummer holiday, so their vacated apartment was available for us to stay in. We met them early in the afternoon to get the keys before they left town. Both of them tattooed and maybe a little younger than us, we were impressed by their apartment which reminded us a bit of our first place on Capitol Hill in Seattle. Their vinyl collection is massive… which records I choose to relate to you probably says more about me than it does them given it's depth, but I see Isis, Mastodon, Zeppelin, Ozzy and Bruce Springsteen right off the bat. A walk and a drink at their local pub tuckers us out for an early bedtime.
Day 7: Helsinki
Today we slept in and leisurely made our way back into town via tram. I think everybody in Finland has a tattoo… and the metal is palpable in the air. It's great. A ferry at the south port near Market Square takes us out to Suomenlinna Sea Fortress which has quite a Whidbey Island/Camp Casey feel to it, except bigger. We head back to the apartment with a plan to check out some of the Midsummer festivities later in the evening. On the way back a stranger on the tram gives us his unsolicited opinion about Somali immigrants… you can guess at his frank comments. This is something I've heard now from several Europeans, and over a span of a dozen years. In France and Holland it's Algerians. In Germany it's Turks. I guess in Finland it's Somalis. Living on the West Coast I often feel insulated from racial tension, and I sort of mockingly chuckle at people who think immigrants are stealing our jobs in the US, but this issue is still very alive throughout the EU apparently. More chuckle inducing: while the Europeans may not have embraced all the immigrants, they sure do love their food. Kebabs are more popular just about everywhere than traditional local cuisine.  Our original plan to check out Midsummer festivities was thwarted by the ferry schedule… we thought that the celebration would go late, but the schedule still had the last ferry leaving town at 8:30 and coming back at 9pm.  Finishing up our dinner at 7:30 didn't really leave much time to go visit, so we took in a relaxing evening in our temporary apartment.
So, 7 days, and only 4 of them driving. We're half way through the trip without having gone half the distance.  You know what that means: tomorrow we are hitting the road! The next 3 days will be oriented towards Lapland, crossing the Arctic Circle, and partying at Nordkapp, Norway with the other rally teams. We'll be savoring the easy going we've had in hotels & apartment these past days as we camp out in the wilderness with fabled Finnish mosquitoes and bears. I may be without fast internet and abundant electricity for a few days, and the photo editing has slowed since I appear to have water spots on my lens or dust on my sensor (despite cleaning… arg), so updates will likely be of the text variety via the cell phone. Keep your eyes on Twitter & Facebook for mobile photos. Let's hope the car still starts in the morning!