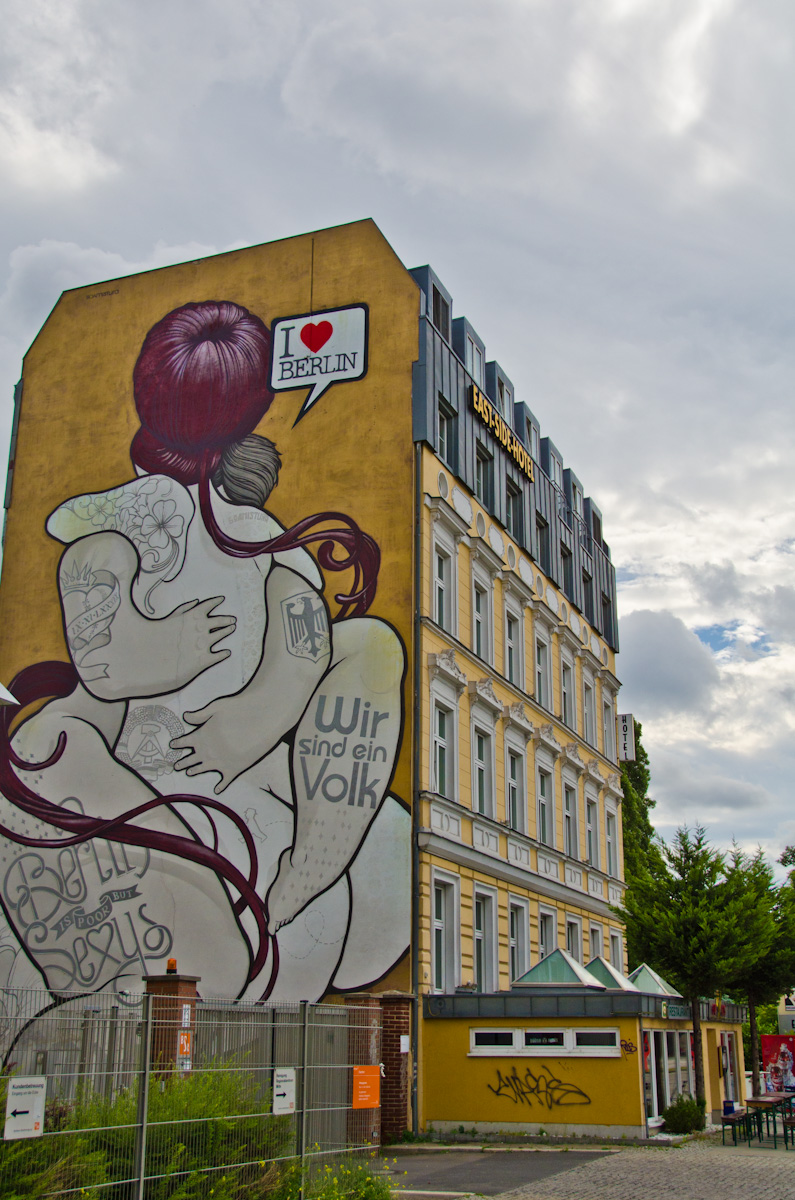 I had set my alarm early to pick Kim up at Hamburg airport for a 7:30 arrival… but the alarm turned out to be unnecessary as I was awakened by one of the 7 other dudes in bunks at the hostels vomiting all over the floor.  Pretty sure he was part of the British stag party that arrived Friday night wearing matching futbol jerseys with rude nicknames emblazoned across the back.  Like I said in my tweet, very classy dudes.
Turns out I didn't need to be so early.  The flight was a little delayed, and we drove straight from the airport to starting line at Strand Pauli Beachclub in Hamburg.  How cool to see a line up of rally cars again, and everybody last minute prepping before the off.  We reunited with Dan again, and this time also Sebastian… their mother was on hand to see her sons' great work come to fruition, and we chatted for a bit with her as well.  After meeting some of the other teams, putting the final stickers on our car, and loading it up with some last minute supplies (case of beer from a sponsor, and a log of firewood to keep us warm in the arctic) we were off in a long line of rally cars growling throaty notes along the harbor, all heading east.
We were in a convoy for a few kilometers before splitting off from most of the pack. Most of them are staying closer to the Baltic coast and camping in Poland tonight, but we had our sites set on historic Berlin.  As most of the other teams are German, we are still playing tourist a bit and have a tiny bit of city site seeing on our agenda.  Berlin also treated us to a visit with a friend from home, a former co-worker of mine and his girlfriend, both of home are living and working in Berlin now.  They confirmed that we are staying in a great area of town, right across from the "East Gallery", a section of the wall that still stands and is a place for artists' work.  There is graffiti everywhere in addition to this section of the wall.  The four of us walked to a nearby pub for a drink, and then took the metro one stop to find an Austrian place for dinner.  All jokes about continental cuisine aside, dinner was excellent: wild boar sausage and dumplings for me, gluten free chickpea polenta and chicken for Kim.
I should probably have more photos to enjoy, but honestly after sharing a bottle of wine, and the limited sleep we've both had (we stopped on the way to Berlin to nap for about 45 minutes), it's time to crash and leave you wanting more for the next post.
Tomorrow we site see and make for Warsaw.  After that we'll be rejoined with most of the rest of the teams on the way to Riga and Tallinn.
Good night!