It's hard to believe it's been nearly two years since I was boarding a plane to London to purchase two Fiat Puntos that would transport our team of 6 to Mongolia.  The Mongol Rally was such a huge undertaking… fund raisers, international vehicle purchasing, camping gear, planning… oh, yeah, and the massive 6 week, 10,000 mile journey itself!  You might think we'd be crazy to take on another rally. Maybe you'd be right, but crazy or not that is just what we're doing.  Something about it has infected us, driving us (if you will allow the pun), to tackle another massive road trip.
Kim and I spent our 10 year anniversary on the road again last year, on a 2 week loop through Alberta and British Columbia visiting the gorgeous Canadian Rockies from Banff to Whistler.  Just that little domestic road trip was inspiring.  So when Dan & Sebastian from Mongol Rally team zero2zero invited us to have a rally reunion on their newly formed Baltic Sea Circle we just couldn't say no!  I'd like to say that we spent the last 6 months meticulously preparing every detail as we did last time, hosting big fund raising parties and studying our route with care.  If I did I would be stretching the truth though.  To be fair, a 4500 mile drive around Northern Europe is not quite as grueling as a Central Asian odyssey, and having done this all once before we have a better idea of what we need to do the second time around.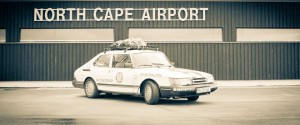 We have put together a route and spent a few weeks perusing mobile.de for used German cars, but the last two weeks everything sort of fell into place. While considering the various used cars available near our starting point of Hamburg, mostly 20 year old VW Golfs and Audi 80's, Dan offered to sell us the car he took on this trip last year! Not only does this offer the benefit of purchasing a vehicle whose history and owner we know, but this 1987 Saab 900 comes with a number plate 666… truly a piece of Swedish Metal! I'm certain Meshuggah and Soilwork will make an appearance on the Saab's aged stereo system.  In addition to sorting out the car details we found ourselves some plane tickets… all that's left to do is to pack and get on the plane, right?
Well, there is also the bit about raising some funds for charity, so we are excited to announce we're supporting Mercy Corps yet again on this trip.  We had such a great experience visiting Mercy Corps' offices and sites in Mongolia.  They are doing amazing work all over the world as well.  We hope our continued support will further their mission to help people in crisis help themselves through economic and social development.  You can help us meet our goal by donating to Mercy Corps here!
I've also spent a few months learning Norwegian, which has to be one of the easier languages to pick up for an English speaker.  I suppose I should be practicing German and Russian too… but Norwegian has been so much more fun to practice.
The rally.roamgreen.org site has had a bit of a makeover for updates on this new journey.  All of the Baatar Hero posts are still here if you're looking for our stories of past adventure.  You can also continue to follow us as we embark on our second rally around Europe this summer.  There are new Facebook and Twitter pages to follow as well.  Friend us, Follow us, or subscribe to our feed and watch us circle the Baltic as we venture off into the Northernmost Rally in the World!