48 Hours in the Life of Baatar Hero
15 May 2010, by Uncategorized
in
Wow, the last few days have been a whirlwind of Baatar Hero activity.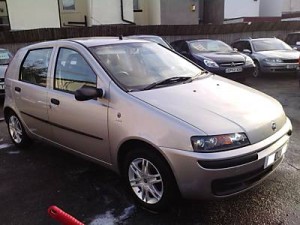 Thursday morning:
We purchased our first car! eBay Motors UK and a few international phone calls later, and we are now the proud owners of a 2003 Fiat Punto Active 1.2 liter with 40k miles on it. 1 down 1 to go!
Then we dashed off to a sponsor meeting with F5 Networks.  They are excited about the car, and found us a place to park it near London!  They're providing us with a lot of logistical support in addition to a communications platform, and will be helping us wrap the cars in logos, add gear, etc between now and July.  They even gave us racing jerseys! We are super excited about the collaboration and support F5 is providing.
Thursday afternoon:
We got our Russian Letter of Invitation.  And then we ran into our first Russian bureaucratic snafoo.  After downloading our visa applications from the Russian consulate website and diligently filling them out, I was told at the consulate in Seattle that those forms… the ones I JUST DOWNLOADED from THEIR website, are out of date.  We had to pick up their new forms and fill them out. I would formally like to invite Russia to the internet, and let them know they can upload their latest visa application form to their website BEFORE they print them out and make them available physically.
Thursday night:
We got off to a late start departing for Boulder, CO.  Kim and Jean and I loaded into our Honda Element bound for I-90.  First obstacle: I-90 eastbound ramp from I-5 was closed.  We aren't even out of Seattle and we're taking detours.
Friday:
We drove all day through Idaho, Montana, Wyoming & Colorado to Estes Park to meet up with other rally teams for Afternoon Tea with The Adventurists.  The drive took a little longer than expected, but we finally made it.  The mad dash continues as we are taking off now for Tea, will update with photos/video/etc when we get back!
70 days and counting down!!