Shadows Over Shangri La
14 Mar 2008, by Culture
in
Violence has broken out in Lhasa, Tibet, as police forces there have come down hard on a peaceful protest to mark the anniversary of the failed uprising 49 years ago that led eventually to the exile of the Dalai Lama. First reports were coming in in the last few days that the military was quashing the protests held by monks at Drepung and Sera monasteries that Kim and I visited in October. Of course this news was alarming, and a little confusing to me… when we were there we got the sense that the monks had to apply for permission from the Chinese government to live in these monasteries, and that they were somewhat in league with the government, as our guide didn't feel comfortable answering some questions until after we had left the monastery. I realize obviously this is a simplification of a complex political tension that exists between the monks, the Chinese government, and the average Tibetan… but I think it adds all the more to the significance of these monks protesting.
Sadly, after a few days of protests and detentions of monks, this tension has broken out into violence on the streets of Lhasa. Tibetan and Han Chinese shop owners are reportedly clashing, shops are being burned, cars have been overturned and set on fire, and there are reports of gunfire throughout the city.
I can barely believe the images being published. We were just at many of these places, standing in front of the Jokhang temple with a profound, tangible sense of peacefulness on a warm, sunny day in October. Now, in stark contrast, foreshadowed by the ominous clouds hanging over Barkhor Square there are overturned cars sending smoke overhead rather than the huge incense burners that sit in front of the temple.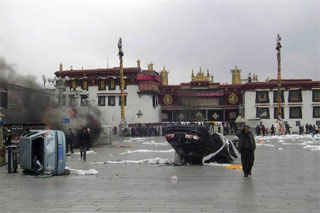 The Land Rovers that transported us over the rugged and beautiful landscape of Tibet from Lhasa to Kathmandu are now just objects of destruction:

These images are upsetting. I can only hope that this situation does not worsen for the Tibetan people and that the Chinese government can be pressured not to escalate the violence. Almost equally upsetting is that the neighboring Indian government is ALSO cracking down on protests by refugees living in northern India where the Dalai Lama now calls home. Pressure should also be put on the leaders of that country to continue to allow Tibetan refugees to live and protest peacefully since they are not allowed to do so in their home country. If governments (US, Canada, I'm looking at you) can not persuade the Chinese to treat their citizen with dignity and respect their human rights, surely we can do so with our allies in India.
Students for a Free Tibet are updating the situation with ongoing video reports.