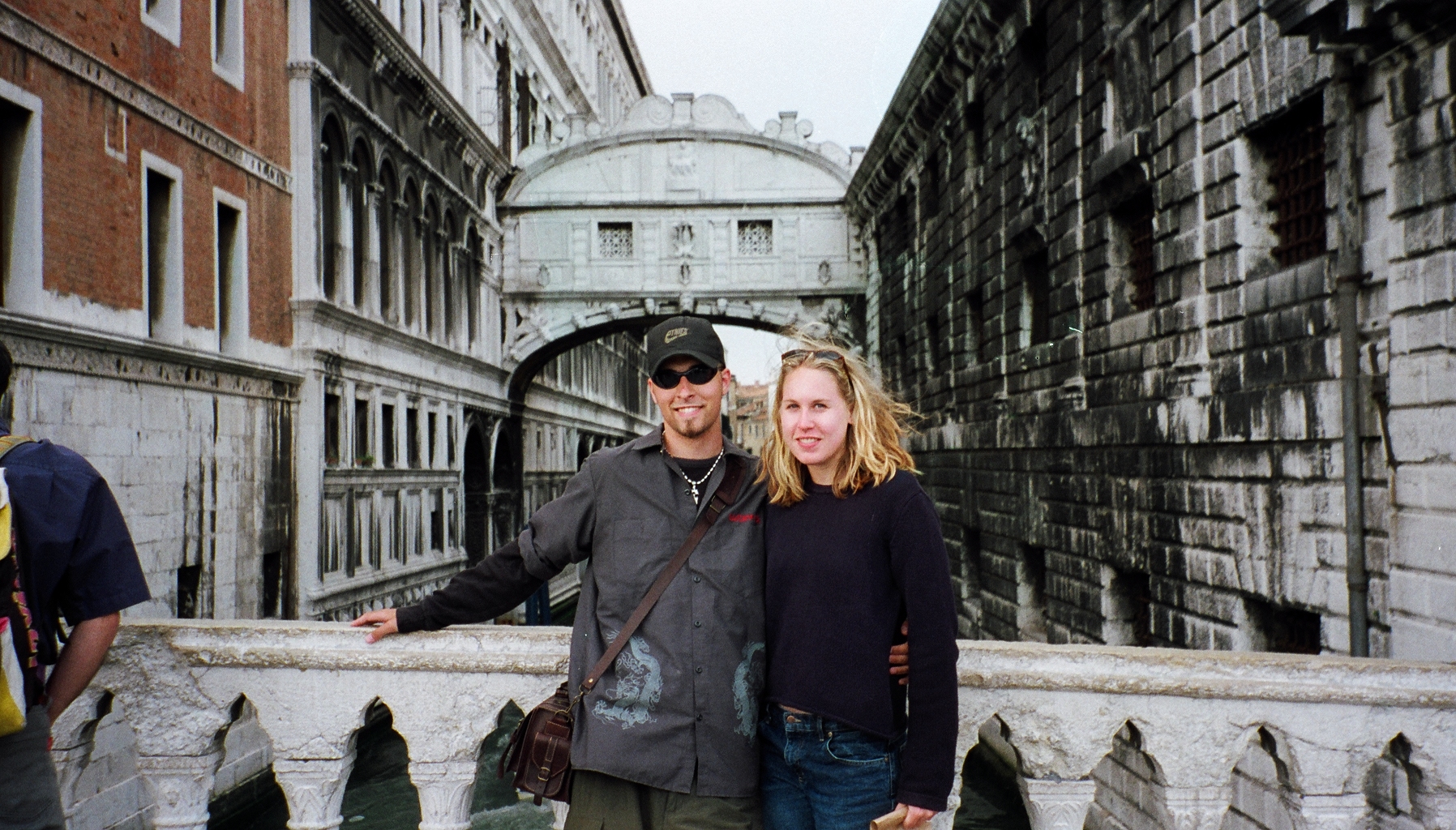 It's been several weeks since either of us has written, but only due to the fact that we're having so much to absorb.
To sum up Rome… let's see; it seems that many of these old cities are looking the same to us (travel snobbery, I know). However we did greatly enjoy the ruins seeing many famous sights and wandering through piles of rubble of what is now left of a powerful empire. We also spent a day venturing out to Orvieto (amazing hill town with a gorgeous "Duomo") and tiny, storybook Civita (population 15) where a charming, old, half-paralyzed lady told us (unbeknown to her) a false history of the town… in Italian. Spectacular countryside! Our last day in Rome was spent in the great last-ditch tourist dash. Weary, we ended upon the Spanish steps. All of a sudden we noticed everyone in Rome was out waving football jerseys and flags – cops and national guard were everywhere. Cool! Near riot over a national championship! Oh yeah, we did the whole Vatican thing on the first day (we are getting hard to impress) but really liked the Vatican Museum… Brian especially enjoyed the "Map Room". And of course the amazing Sistine Chapel.
Florence was a wonderful change from the big city life (well, compared to Rome). Completely walkable, we spent half a day simply wandering, seeing the Duomo (pretty amazing), and ending the evening watching the sunset over the river from a park above the city. We returned to the wonderfully warm and likable Gabriel (our hotel owner) who was thrilled about Brian being born in Italy, and slept under a ceiling fresco painting of angels. The next day was the museum day -four in total – seeing all the famous paintings like Botticelli's "Birth of Venus" and sculptures like Michelangelo's "David" (however, the most amazing hands down is Donatello's "David", of course!). We were totally exhausted and are now DONE with museums for the rest of the trip.
Venice turned out to be a lot nicer than I had been told. If you ignore the fact that the citizens use the canals as garbage disposals, it really is quite charming. We were lucky to run into a couple leaving who gave us their last day on their "metro" pass – boat rides! No cars in Venice proper makes the city quiet despite all the people. Taxis, metro and all other needs of transportation is by boat! That night, after dinner on Lido, we saw how even more beautiful Venice is at night as the canals are lit up, the moon shines down on the water, and gondolas glide through the water. We were lucky enough to have caught a Venetian in a good mood singing in the anal from afar. The next day was spent locating, traveling to, and visiting Brian's place of birth – Pordenone. The town was very cute and quaint. We walked to the hospital and were surprised by a rather ramshackle facade. This is where Brian was born? The building looked condemned! Rounded the corner and saw a much more modern, fully functioning hospital… it'll make a good joke as Brian got a picture of the old part and we can tell people that's where he was born. Our last day in Venice was spent wandering the streets and many markets absorbing a canal city.