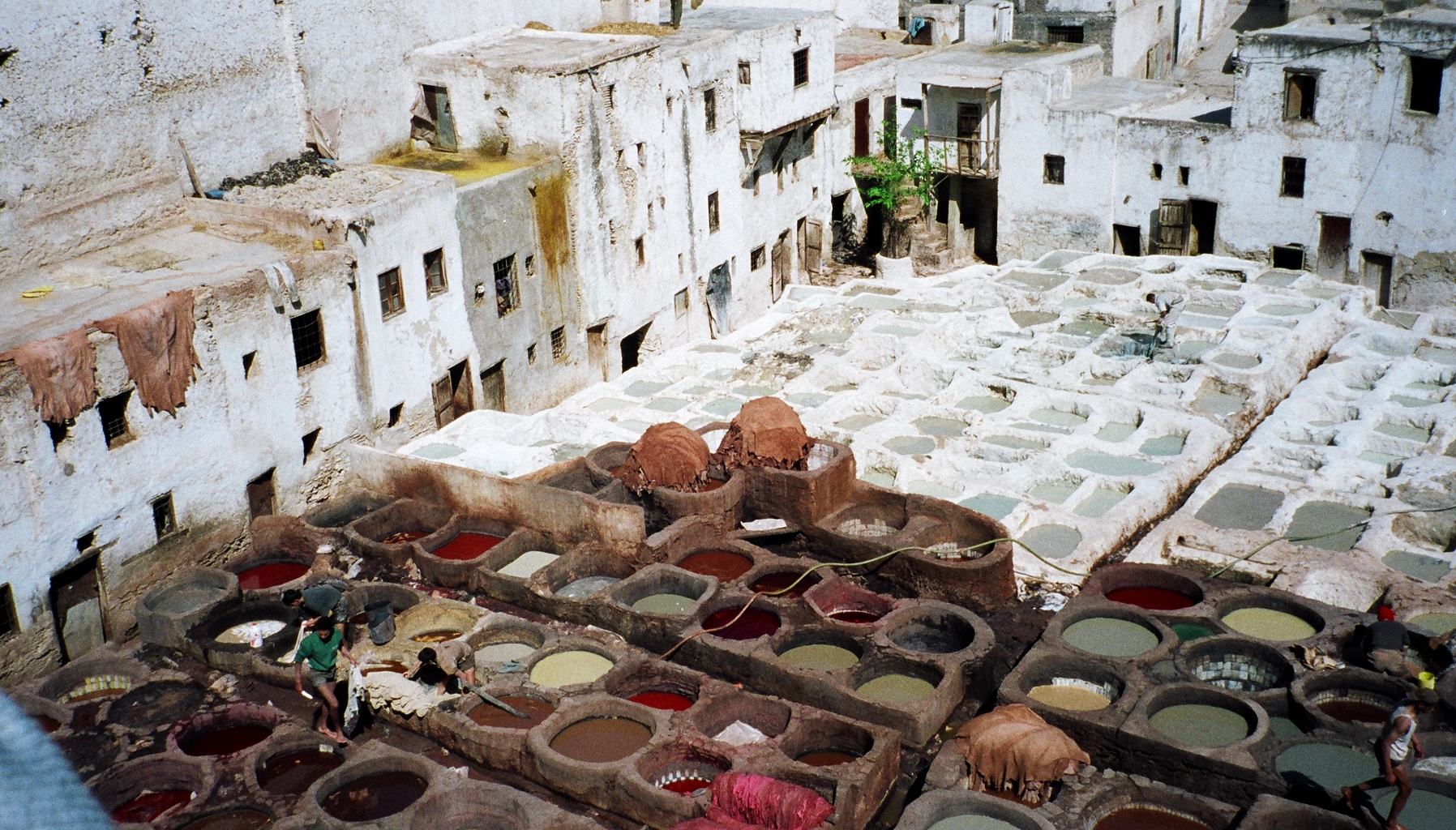 We just came back from one of the most colorful experiences – Morocco! But first, a description of beautiful Rhonda…
Rhonda was a fairly small hill-town in Andalucia, Spain and full of spectacular sights. We feel fortunate enough to have stayed in a small pub/hotel just in front of the 16th century bullring and just near the "new" bridge that lead to Old Rhonda. Loved the morning hike down from town into the deep gorge cut out by Rhonda's river! We spent hours soaking in picture-perfect views of the green valley below and of the impressive bridge of Rhonda.. frolicked with an ass, herded some sheep, went to a really freakish witch exhibit at the local museum (complete with poisons, 18th century sex toys and shriveled up heads!) We'll be back!
Didn't expect it to take 16 hours to get to Fez, Morocco, but with trains to Algeciras, a 3 hour ferry ride across the straight of Gibralter, 4 hours waiting at an in-the-middle-of-nowhere Tangier train station and the 6 hour train ride to Fez… it did. It was all surprisingly worth it.
After a mad dash late at night upon arrival to find an empty hotel room (it took 3 tries!), we cozied up for the night after our long journey. The next day we had to find another hotel. One night stays seemed to be the trend and this would become a pattern for us… during Semana Santa (the holy week leading up to easter) in Spain lots of Europeans go on holiday in Morocco and every hotel was packed. At the new hotel we were introduced to an official tour guide who would show us old Fez for three hours (only 120 dirham! ~ just over $10). At first we were skeptical… when we got off the boat in Tangiers we were accosted by half a dozen "official" tour guides. They all looked totally different, but this turned out to be a function of some surprising cultural diversity in Morocco. We later learned that these guides with badges really are official… just very competitive with each other.
Our guide was very nice and started showing us some of the oldest and most interesting sites. Then he took us to some shops where the owners began pitching their wares to us. We didn't expect the hard sell because we were just sight seeing (so we thought) but the tour slowly turned into a trip to the market. We were figuring out that our guide was trying to get a commission out of us for potential sales but we didn't mind the attempt because we got to see things we never would have found on our own. In all we saw some of the 365 mosques in old Fez, including one which is the oldest university in the world as well; we saw the inside of one of the most beautiful and oldest houses in Fez (the all look the same outside but can vary drastically inside) where they now make huge rugs… there were two little girls ("the ladies") upstairs weaving them… it was a little hard to see and harder still when we were offered asked to buy some rugs we really couldn't afford. In America this looks like child labor, but the reality in Morocco is that their parents can't afford school and this is their vocational training and an opportunity that many of the roaming children we saw in Fez don't have. We then saw where they dye the wool and tan leather. We met a traditional pharmacist who had herbs and oils (Kim bought some great smelling oils) and painted a berber "tattoo" on Kim's forehead using charcoal. Last but not least we visited a one armed blanket maker who had been hand weaving his blankets and rugs for 36 years on an ancient looking loom. These were much more affordable and Kim bought one for our apartment when we get back home. We had a great afternoon in old Fez and didn't lose our shirts in the process.
On Wednesday we switched hotels yet again and decided to treat ourselves with a night at the Sheraton. We spent all day by the pool and rested up for our journey back to Spain, but not before running into an American originally from Morocco who we had met on the train. He tried to convince us to go to the "government rug market" with him and buy some rugs to sell at home for six times the price. It sounded pretty fishy, and the more he proclaimed "it's not like I am proposing you smuggle drugs or anything" the less we liked the sound of this idea so we passed and went swimming in the pool.
Today we made it back to Spain and will be on our way to Granada mañana.