Pink City Turns Red
14 May 2008, by Locale
in
One of the great rewards we've gained from traveling around the world is a sense of identification with the places we've been too, even if briefly (like 4 days in Morocco or Cuba). It's one thing to talk about the people or politics of a place when your exposure is through reading a book, or a movie, or a (you'd have to assume biased in some, maybe unknown, way) report in the media. When you've been there, talked to people, made new friends, smelled the air and walked the streets it obviously becomes more than a story you see flash across the news, it evokes memories, and maybe concern for the people you met. This can be really gratifying… I mean, you feel worldly, cultured, experienced, and life's more fun that way. As with everything the bad comes with the good, so when we hear about the violence in Tibet (and the earthquakes in neighboring Chengdu, geez they just can't catch a break!) there is a strong feeling of concern, much more than the general sympathy you might feel hearing about any disaster anywhere else.
So it was again when we read about bomb blasts in Jaipur yesterday. It's the capitol and largest city in Rajasthan, the Indian state bordering Pakistan, so maybe that makes it a target for this alleged terrorist activity… but it's also where I fondly remember explosions of an entirely different nature. I'm left feeling a bit naive again, about my judgment of the politics of the region after being there… but when we traveled through Rajasthan during the very tense time of Benazir Bhutto's return to her home town in Pakistan, and the following crackdown by Musharraf which resulted in martial law, I never felt unsafe or that the tension was spreading into daily life in India. In fact, when we were in Jodhpur people were openly joking about how the events in Pakistan would affect the cricket championship tournaments in India! Surely the cricket tournament would still be on, yes? Would Pakistan be able to compete? These were the worries of the day back in November. Could this really be a terrorist plot? Is my skepticism naive also?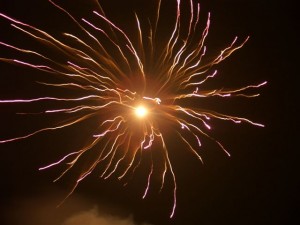 I can't help but think, as in Tibet, that something other than what's being reported is going on, based on my limited and totally anecdotal (but still personally compelling) experience. I don't remember the Jaipur being reported on in these stories, and I do remember everything in India being confusing and not exactly as it seems… so until I'm able to read more I'll remain somewhat skeptical. These reports are scary though… again, seeing photos of explosions, fire, on bloodied streets that we have just recently walked down. I think back to the hotel owner who happily let me set fireworks off his roof during Diwali. Is he ok? There is also a little guilt at feeling lucky… lucky that this didn't happen while we were there, lucky to have experienced Jaipur before all this happened. Maybe that's natural and I shouldn't feel guilty about it. I just hope my more optimistic view of the region will prevail and this violence doesn't become more widespread.
| | | |
| --- | --- | --- |
| Jaipur in November | vs. | Jaipur Today |