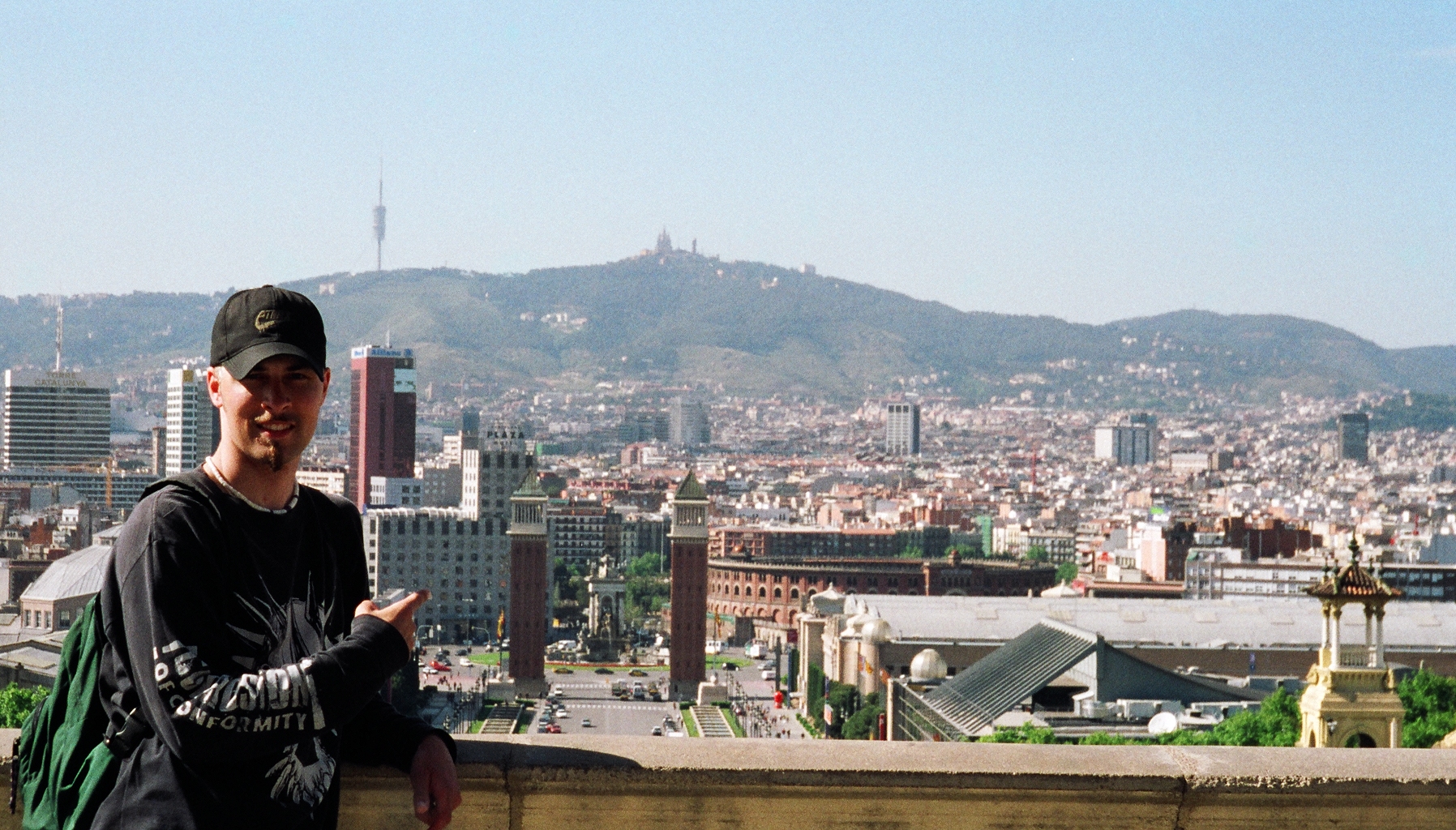 Granada turned out to be a very busy little town! The Spanish celebrate the Easter holiday for an entire week and they like to come to Granada. Fortunately we arrived in town around noon and caught a room just before everything filled up. We decided to check out the famous Alhambra and lazily walked up there from our pension. We ran into a guy traveling from the states who gave us the scoop on how to get into Alhambra which was completely full for the day. We would have to get up early the next morning and wait in line to get tickets. So, that night we walked around quaint Granada, caught the catholic procession and walked up to a park in a higher part of town to catch the Alhambra all lit up at night – amazing! There were fire dancers and drummers to enhance the view. We had dessert at a little cafe up there and wandered the streets some more discovering how hard the people of this region party! We went to bed after midnight, woke up at 4:30am (to get into the Alhambra line) and things were just winding down! After a very cold and hungry wait (for over 3.5 hours) we got our tickets. Alhambra was truly amazing with walls that looked like lace and amazing gardens. It was worth the effort!
That night we got on the train to Madrid (again) in attempts to get to Barcelona. All the trains to Barcelona were full for a week due to Semana Santa. We took the night train to Madrid and upon arrival discovered that all the trains from there to Barcelona were booked for days as well. We bit the bullet and rented a car with a couple of American students we had met on the train (Sam and Ryan). The drive to Barcelona was actually quite beautiful and uneventful except for figuring out how to get our manual Renault into revere, getting yelled at by a tool booth guy, and almost loosing control of the car when a car with two guys with heads complete wrapped in bandages sped by us and we all broke up in laughter.
When we got to Barcelona we decided to drop off the car at the airport and take the subway into the city so we wouldn't have to drive the rental in city traffic… this turned out to be a big mistake since we could have kept that car for 24 hours. When we got into the city and tried to find a hotel room we discovered that Semana Santa and Easter celebrations had every hotel room in the city booked for miles. According to the tourist hotel finder offices "Barcelona is full"! We were homeless! We decided to lock up our bags at the train station (Sam and Ryan were still with us) and wander the streets while the city celebrated the holiday around us. They partied like rock stars for Easter, and on what I thought would be a pious holiday we saw people getting wasted and throwing up in the streets. At the train station we picked up another student (Ret) and I ended up running into a girl from Fred Hutch! The night itself was cold and at one point we got teased by two cars of cops as we sat in the main plaza. We felt like THE stupid Americans – totally clueless. Anyway, the next morning we found a hotel room (after getting kicked off the subway in attempts to get warm and catch some sleep) and passed out until about 6pm. Dinner, more rest, shower, rest, and booked a flight from Rome to Athens (so we could skip the overnight ferry) and we basically had about an hour to see the '92 Olympic site before getting on a train to Nice.
Thanks Barcelona.